Serving as the Head of Facebook's Art Dept. was both a deep honor and a great professional challenge. As the company underwent incredible growth in recent years, my charge was to scale our beloved Analog Research Lab (ARL) and Artists in Residence Program (AIR), bringing inspiring art and design across Facebook's corporate spaces and surrounding public communities around the world.
The Analog Research Lab has existed at Facebook since late 2009, began as an underground printmaking shop, and was started by Ben Barry and Everett Katigbak. These guys were an early part of the Facebook design team and whose backgrounds favored more traditional graphic and environmental design.
Back then there were less than 2,000 employees and Ben and Everett were often right there when interesting things were said or discussed. So with no budget or permission they scavenged, built, or bought art equipment. And working out of unused storage space in our original campus -- they simply started printing posters. Overnight, or on the weekend they stapled them up. They felt this was the best way to open up discussion around important issues.
And thus, "Poster Culture at Facebook" was born. In time, that original space was found to not comply with California building regulations but by then the Posters and Creative Culture around them was truly loved and so an official Facebook Analog Research Laboratory was built in the company's current Menlo Park campus and it became a legitimate part of our infrastructure and one of the most visible representations of Facebook's unique culture.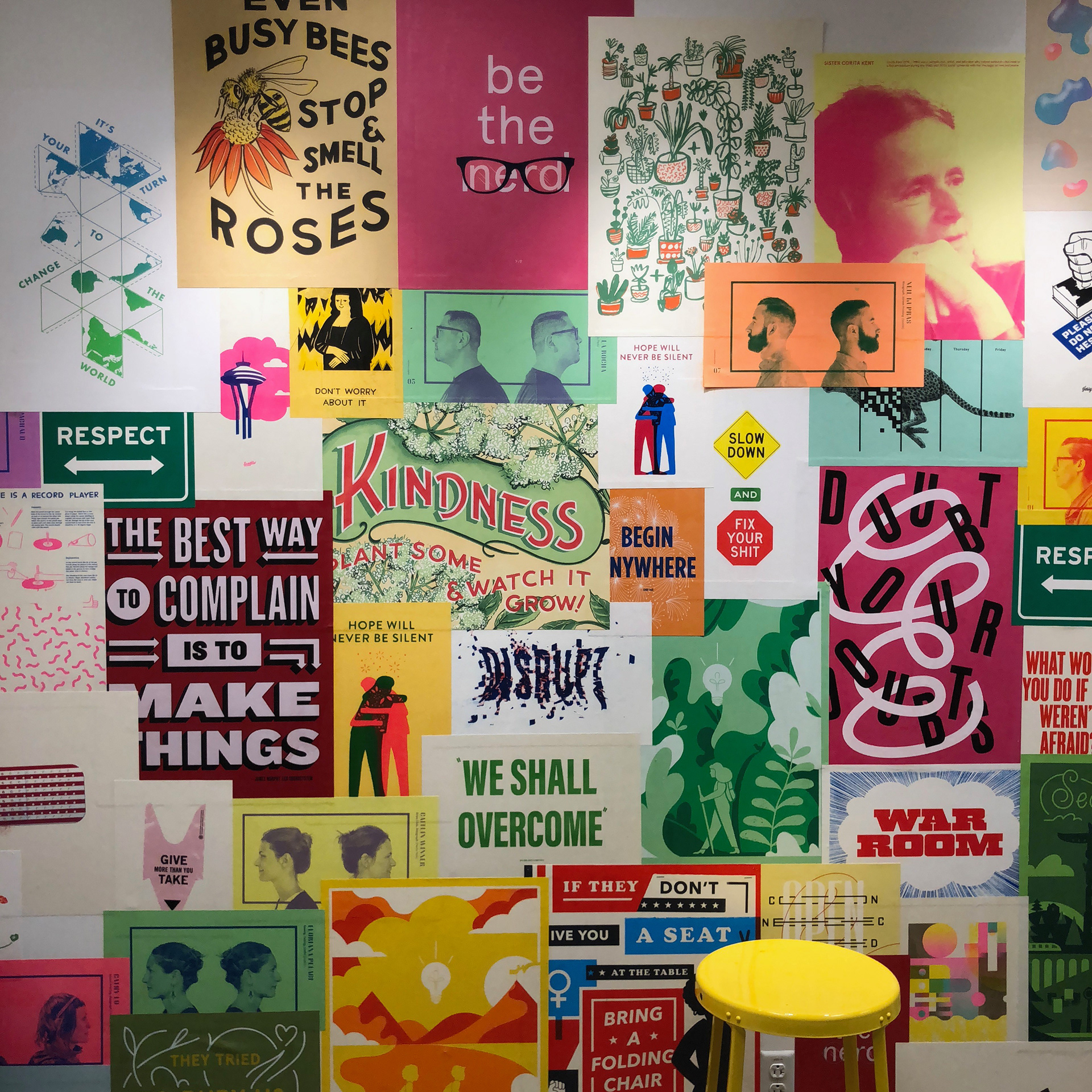 Facebook posters uplift consciousness in its workplace and remind employees that the things they work on ladder up to Facebook's mission to "give people the power to create community". They also remind them what we're doing matters. And what employees are thinking about when they work also matters. 
And to help ensure the messaging in our spaces remained both inspiring and world-class, in 2012, a second program was created: AIR, also known as the Artists in Residence Program which is one iteration of Facebook's commitment to staying open, porous and alert to the world.
The AIR Program sources, supports and shares stories on contemporary artists whose work we bring into our spaces, all over the world.
A personal collection of photos from some of my favorite spaces around the world show's the brilliant impact our AIR team has had on our spaces and culture.

As I took the helm as the program's lead, it was important to shift the work from these two important programs from working in a siloed fashion, to bonding them to work more collaboratively. As a relatively small team to others that serve the global employee community, this allowed us to work more closely to have greater impact. 
I helped established a new, unified org (FB Art Dept.) and focused on creating systems to help scale the team's work, add rigor to our project management, and push for a more metrics guided way of working that would allow us measure successes more effectively and avoid missteps earlier.
With regards to building systems for scale, standardizing certain ways of working was necessary to allow the team to keep up with Facebook's rapid construction timelines. One example of this was the work I led that gave our Facilities partners a better way to understand when and how to construct new Analog Lab maker spaces  across the globe. This required deep cross-functional, collaborative work and strong communication planning to ensure Facebook's massive Facilities organization adopted our standards.
A New Mission and Giving Back to our Neighboring Communities
Facebook's mission to create community is an important one and it gave inspiration to a pivot around how the Art Dept. can contribute in our own, unique way.
Under my leadership, we crafted a new mission to Cultivate the World's Most Meaningful Creative Culture, but to get there meant we had to share the amazing creative culture we, as employees, got to live everyday with the outside world.
This led to my work to expand our existing public programming efforts and extending Facebook's uniquely inspiring creative culture to the global public communities we inhabit.
Public workshops - Facilitating art and design mentorship through hands on and instructional workshops.

Exhibitions - Showing up within the community with the same exhibition of art and design that we find in Facebook spaces allows our neighbors to experience and be inspired by the same creativity as our internal  community.

Street art/public murals - Piggy back off of existing street art events to commission high caliber creative work for both Facebook and public communities to experience.
Community partnerships - Partnerships with museums and other creative venues enables us to provide even more to our neighbors. Also partnership with local craftspeople to broaden their reach
Thought leadership events - Community inclusive speaking events sharing knowledge about building and maintaining strong communities through art and design.
Scaling Creative Education