Cleaner water and a healthier home with just a few easy steps. This was the promise the Denver Water PipeFix project aimed to deliver through a mobile web application that educated property owners across the Denver metro area of the risks of pipe contamination, and made it possible to get help updating their water infrastructure in minutes.
There are up to 90,000 Denver homes that need service to prevent lead and harmful sediment from contaminating its water.
This summer, I spent volunteer hours creating a mobile web experience for Denver Water residential customers to secure zero interest improvement loans and streamlined contracts to complete the work with ease and confidence.
Landing page/onboarding screen
At first glance, these screens may come off as text heavy, but given research conducted around the Flint, Michigan water crisis, customer sentiment reflects the desire to have more information. This screen utilizes a tile carousel to clearly answer the top three questions expected to be answered within the first 10 seconds of the experience: Why should I do this? How does it work? What am I actually fixing?
Address qualifying screens
By tapping Google's map API and tying this front-end to the Denver Water database which can verify property ownership based solely on a customer's last name, we've created a 2 screen experience to verify qualification for the program. 
Once qualification is confirmed based on said data points, it's important to explain to the the customer what dimensions were looked at to achieve a qualified state. those include original construction date, purchase date, and previous improvements recorded by the county, and available to us through the data query.
Property qualification screen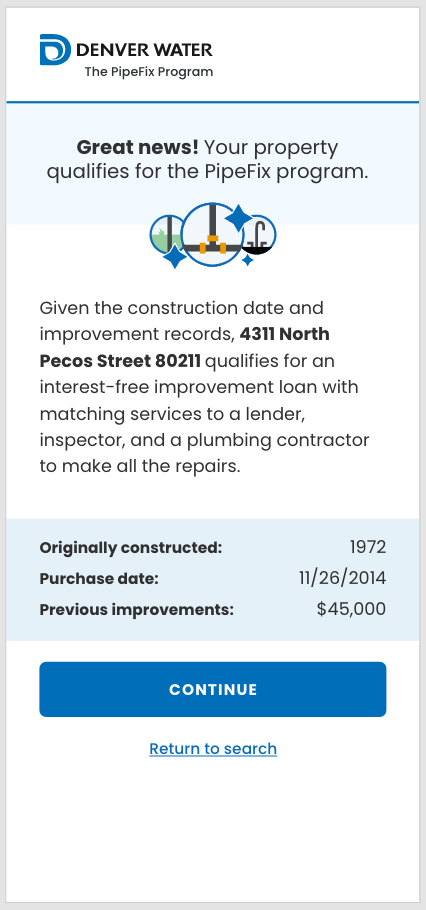 Schedule inspection and create account
The next step in the customer flow is to schedule the in-home inspection. Using a mobile web open-source calendar component, the customer simply selects the day, then the time that's convenient to them. Because this appointment is tied to a specific property address and home-owner, we can lock those values into the next screen which serves as the loan application. the only three additional data points we need form the customer to secure the interest free loan is an email address (for account creation), phone number (for contacting), and social security number for a soft credit score pull. 

The final screen in this flow celebrates the completion of the inspection and loan application, while providing clarity around the next 4 steps to project completion.
Post in-home inspection sign-in
Review project quote and loan signature
Schedule service and a personal thanks
Brand Identity implications